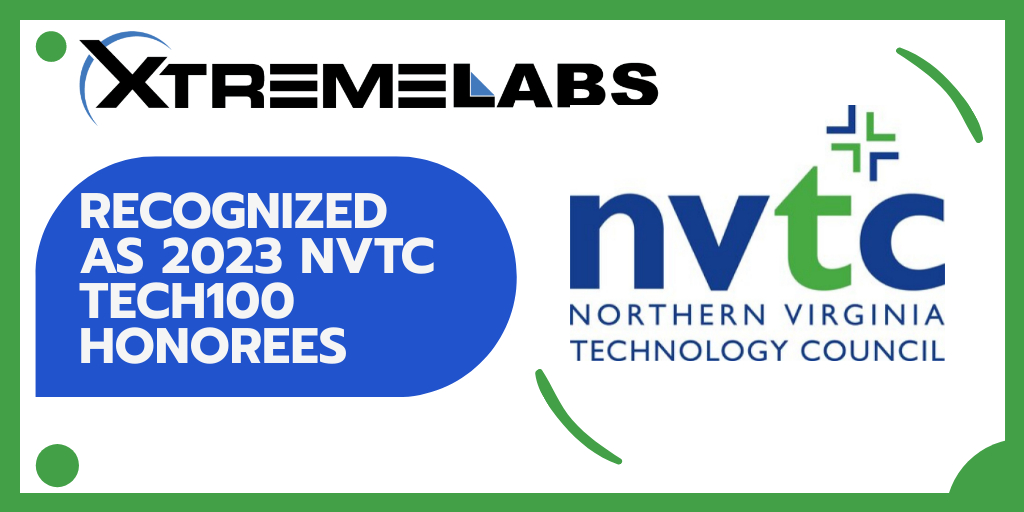 XtremeLabs was among the technology companies recognized by the Northern Virginia Technology Council (NVTC), the trade association representing the National Capital Region's technology community, on its list of 2023 NVTC Tech100 honorees. This year's NVTC Tech100 is comprised of 61 tech companies, 33 executives and six emerging leaders who have demonstrated dedication, vision and innovation in the Northern Virginia region. 
XtremeLabs has had a remarkable year. The product team transformed the XtremeLabs catalog of lab and related training offerings. The launch of the XtremeLabs marketplace provided a jump in direct customer outreach and support. Operations at XtremeLabs were streamlined. The company benefitted from key new hires, including to its leadership and product development teams. 
Ahmar Abbas, the CEO of XtremeLabs, was also one of the executives recognized on the NVTC Tech100 list. At XtremeLabs, Mr. Abbas has been well-regarded for his innovative leadership and as a driver of excellent product quality and customer service. He has optimized XtremeLabs product offerings, introduced new sales channels, and expanded the company's customers and partners. 
Prior to joining XtremeLabs, Mr. Abbas was the Vice President of Global Services at Digital Intelligence Systems, LLC — a staffing and managed services firm based in McLean, Va. There, he was responsible for developing new and innovative service offerings while leveraging the global delivery model. Prior to DISYS, Mr. Abbas was the Senior Vice President at CSS Corp., responsible for Global Infrastructure Management Services and Cloud Services. 
"Congratulations to XtremeLabs and Mr. Ahmar Abbas and all of this year's Tech100 honorees — a cross-section of innovators from the tech sectors of cyber, cloud, AI, software development, data centers, government IT and commercial tech," said Jennifer Taylor, NVTC president and CEO. "I am so inspired by the positive impact these honorees have on the technology field. Our region continues to be one of the nation's leading tech hubs – and with the exponential growth of responsible and trustworthy AI, our future is brighter than ever." 
The NVTC Tech100 includes the region's top forward-thinking companies, executives and emerging leaders who are driving innovation, developing breakthrough technologies, and contributing to economic growth. 
The 2023 program attracted 200 nominations across three award categories: 
Company

 

Executive

 

NextGen Leader

 
A panel of independent judges — including Jamie Graham (Kipps DeSanto), Sam Maness (Raymond James), Jim McCabe (Clearsight Advisors), John Song (Baird) and Shiv Varma (KPMG) — reviewed the nominations. You can read more about NVTC Tech100 on the Northern Virginia Technology Council website here.  
About XtremeLabs LLC 
For the last twelve years, XtremeLabs (xtremelabs.io) has been the industry leader of hands-on digital labs, providing IT training environments for Fortune 500 companies, academic institutions, and training organizations of any size. The launch of the XtremeLabs Marketplace provides a one-stop shopping experience where training customers can find labs, courseware, instructor materials, exam vouchers, and practice exams. XtremeLabs also supports technology learners, schools, and vendors with its series of educational webinars. You can find out more here. 
About the Northern Virginia Technology Council (NVTC) 
NVTC is the trade association representing the Northern Virginia technology community. As one of the nation's largest technology councils, NVTC serves companies from all sectors of the industry, from small businesses and startups to Fortune 100 technology companies, government contractors, as well as service providers, academic institutions, and nonprofit organizations. More than 460 members look to the organization as a resource for networking and educational opportunities, peer-to-peer communities, policy advocacy, industry promotion, fostering of strategic relationships, and branding of the region as a major global technology center.